About Us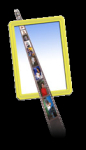 Eyecatcher, Too is owned and operated by Fay Gordon and was opened in Zachary four years ago.
Ms. Gordon has over 15 years of experience in photography, over 10 years experience in framing and is an
award winning photographer and artist.
She also paints commissioned portraits in watercolor and enjoys every minute of her work.
Ms. Gordon is a member of Capital City Professional Photographers of LA Guild, PPLA, and PPA.

Eyecatcher, Too wants their clients to feel comfortable and relaxed. We take great pride in our work and want only the best for our clients.
We hope to be in Zachary for a long time and bring memories to the community for years to come.